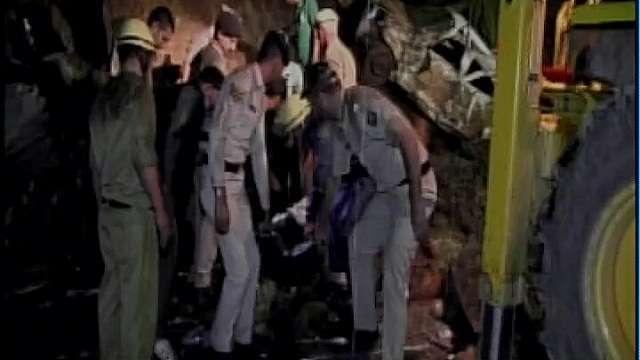 There are reports that about 4 other vehicles also have been buried, said an eyewitness over phone. The exact number of passengers in the two buses was not yet known. Authorities, however, indicated that nearly all of the bodies have been recovered even as they said that the death toll could rise slightly higher - to above 50.
Personnel from National Disaster Response Force and Army, along with district authorities have been pressed into service to carry out rescue operations.
One of the buses was on its way from Chamba to Manali and the other from Manali to Katra. However buses could be carrying 30 to 40 persons. All passengers from one of the two buses - 43 - are believed to have perished in the calamity.
The state government said that the Katra-bound bus had a total of 8 passengers, of which 3 were killed and five rescued.
Following are the top stories of the northern region at 1900 hrs: DEL15 PM-LANDSLIDE New Delhi: Prime Minister Narendra Modi condoles the deaths that occurred due to a landslide in Himachal Pradesh's Mandi district.
Chief Minister Virbhadra Singh and Leader of Opposition Prem Kumar Dhumal rushed to the spot. He also met the bereaved family members and expressed condolences. "My condolences with the families of the deceased", PM Modi tweeted.
More than 20 people were feared dead after massive landslides washed away and buried the two buses in Himachal Pradesh today.
Deputy Commissioner of Mandi district, Sandeep Kadam, who was the first to reach the spot said, "Rescue operations is going on war footing". Another survivor claimed that the man was also swept away by the landslide.