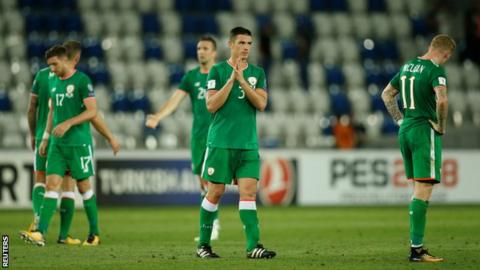 It's something we can look at and improve on.
Manager O'Neill appreciates the scale of the challenge ahead.
He added: "We were by no means at our best and if anything, it simplifies the job we have on Tuesday night". That's what we'll have to do. We have to be at our best to win the game and we can do that.
"Yes, I thought that might have been his moment, but it didn't materialise". I said yesterday that considering they're supposed to be the last seeds, they're the strongest last seeds in the whole thing.
In the team Georgia, the player Giorgi Loria is not in the game and he will be replaced either by Giorgi Makaridze or Nukri Revishvili and the player Nika Kacharava will also be missing in the team as he was suffered from Virus.
However, Georgia were back in the game within three minutes when the excellent Ananidze collected Valerian Gvilia's pass and unpicked the Irish rearguard to slide Valeri Kazaishvili in on goal, and he made no mistake as Randolph advanced in vain.
And so it proved with Georgia having 74% of the possession in a game were Ireland often looked laboured, bereft of ideas, and, in truth, lucky to escape Tbilisi with a point thanks to Shane Duffy's goal.
And so, we knew from early on that the hosts might not be entirely comfortable under a high ball from a set piece but that felt like a rather distant memory by the time Ireland had another. It was up to us then to take control, but unfortunately they took a grip of it.
The sense that it would lead to a goal built steadily and, sure enough, the locals pulled level with 11 minutes of the half to play.
Shane Long, who worked hard but had little service and nearly no chances to score himself, picked out McClean six minutes from time but the winger couldn't quite finish and McGeady then missed a clearcut chance to convert a Duffy knockdown in added time. We've got one or two very, very decent players who probably didn't play well tonight. "We gave possession away too cheaply and allowed them dominate".
Ireland boss Martin O'Neill had admitted before kick-off that the Group D clash was not so much a "tricky" affair as a "really, genuinely difficult" one, and so it proved as Georgia did everything within their powers to secure a first win of the campaign.
"We will try to make the last game hard for Serbia".
You ask that to any manager after a poor enough result and worse performance and you're going to get an inevitably cutting reply but O'Neill has dealt with these questions a lot and he's dealt with them from O'Donoghue specifically a lot.