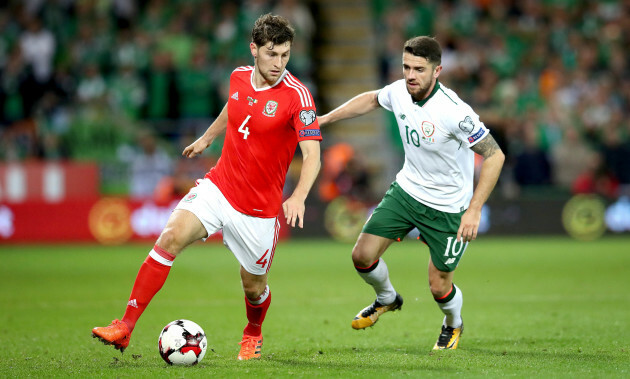 The Republic of Ireland are in League B alongside Northern Ireland and Wales who they defeated to progress to a World Cup play-off on Monday.
Chris Coleman's side had been on course to challenge the likes of England, Germany, Spain, Italy and France for the inaugural title in European football's third major worldwide competition but lost out by less than 600 coefficient points.
Promotion and relegation will be part of the competition so the four group winners will be promoted to League A with the four teams who finish last in the groups relegated to League C.
Division A: Germany, Portugal, Spain, Belgium, England, France, Switzerland, Italy, Poland, Iceland, Croatia and the Netherlands.
The January draw will see the Leagues (A, B, C and D) divided into 16 groups of three or four teams, with A being split into four groups of three teams, B the same, C into three groups of four and one of three, and D into four groups of four.
This continues accordingly until each of the groups have four teams in the play-offs.
If, as is likely to be the case with Group A, there are less than four teams who have failed to make it to the Euros, the highest placed Group B team who has yet to qualify will take part in the Group A play-off.
Austria, Russia, Slovakia, Sweden, Ukraine, Bosnia and Herzegovina, Denmark, Czech Republic and Turkey complete the 12 teams.
And League D consists of Azerbaijan, FYR Macedonia, Belarus, Georgia, Armenia, Latvia, Faroe Islands, Luxembourg, Kazakhstan, Moldova, Liechtenstein, Malta, Andorra, Kosovo, San Marino and Gibraltar.
To full list of Leagues are available on the UEFA website.
The competition will run alongside qualification for Euro 2020 and is an attempt by Uefa to revive worldwide football by providing teams with more competitive fixtures against teams of a similar standard.
The League Phase Draw for the UEFA Nations League will take place in Lausanne on 24 January 2018.
However, the Nations League will be used to decide the seedings for the Euro 2020 qualifiers and, on top of that, offer four non-qualifying teams a "back door" route into Euro 2020.
The tournament will be used to reduce the number of friendly matches across the global calendar and provides four qualification spots to Euro 2020.
The competition, which is a new worldwide tournament for European countries, will involve all 55 nations taking part from September to November 2018.