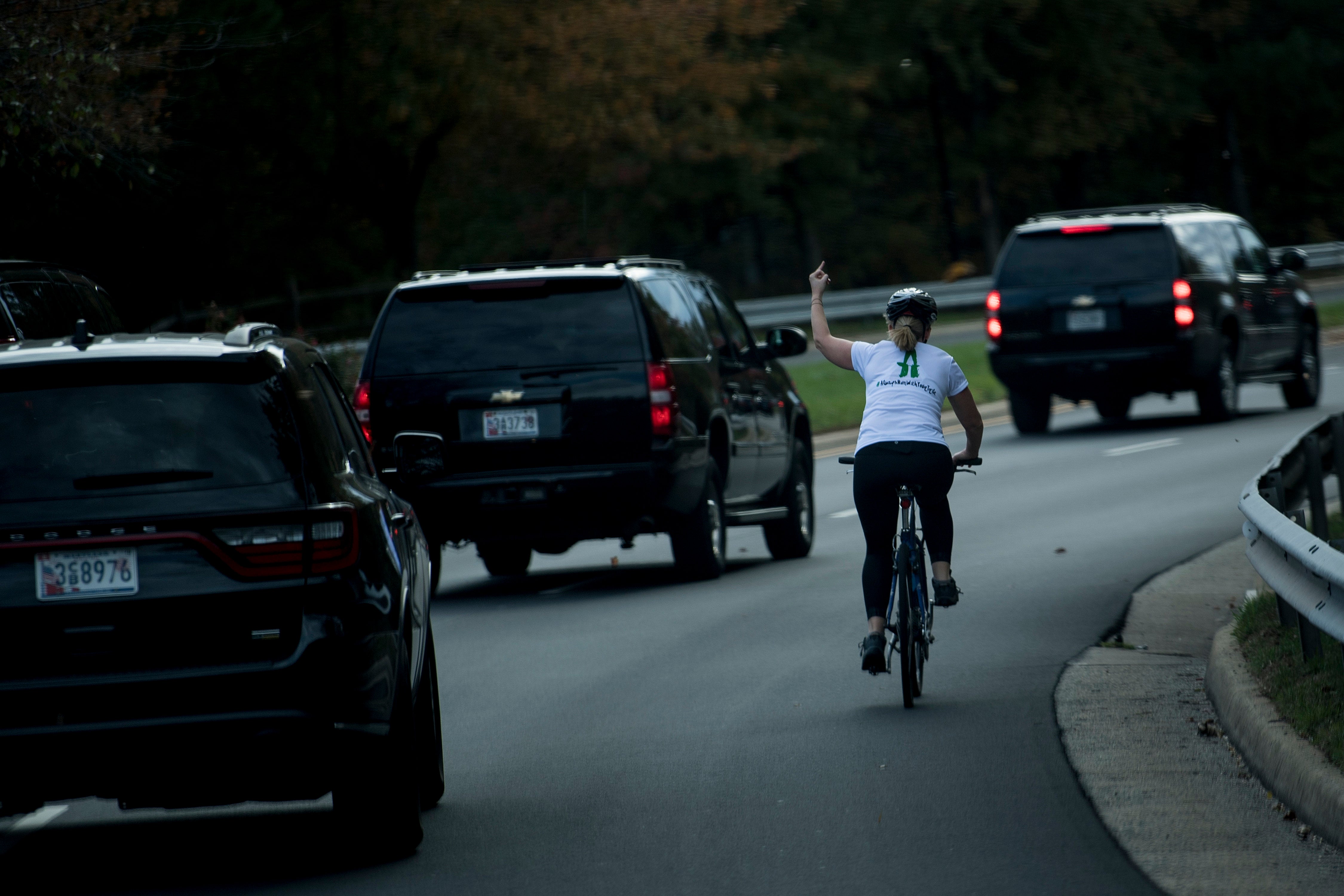 The woman who gave President Donald Trump's motorcade the finger in late October is speaking out after she said she was sacked for the incident that went viral.
Her bosses at Akima, who have not returned emails and calls requesting comment, showed her the blue-highlighted section 4.3 of their social media policy when they canned her. The famous photo now appears to be her Twitter profile picture, her Twitter background, and her Facebook cover photo, though her profiles don't seem to tie her to Akima. As it circulated online and became a sensation, she told her employer, government contractor Akima, about it, leading to her firing, according to reports.
Although Briskman's face can't be seen in the photo, several of her friends suspected she was the mystery cyclist and tagged her in the photo on Facebook.
"Covered Social Media Activity that contains discriminatory, obscene malicious or threatening content, is knowingly false, create [sic] a hostile work environment, or similar inappropriate or unlawful conduct will not be tolerated and will be subject to discipline up to an [sic] including termination of employment".
The bird-flipping bicyclist said the moment just got the better of her.
But on Saturday, the mother of two told the Huffington Post that she was surprised that someone had snapped a photo.
"I said 'Yeah, that's me".
So what was she thinking when she gave Trump the finger?
"They said, "We're separating from you, '" Briskman told reporter Jennifer Bendery".
Briskman emphasized to her former employer that she wasn't working when the incident happened and her employer isn't mentioned anywhere on her social media accounts.
After her picture went viral, she reported the matter to the HR department of her company, Akima, a Virginia-based federal contractor.
People criticized Akima - some on the left directed people on Twitter to complain directly to Akima's offices - accusing the company of infringing on Briskman's right to free speech. They fired her over it. "I'm angry and I'm frustrated". Like it or not, whatever you do on social media directly reflects on your employer. According to her interview with the Huffington Post, "Sheplans to look for a new job with an advocacy group that she believes in, like Planned Parenthood or PETA".