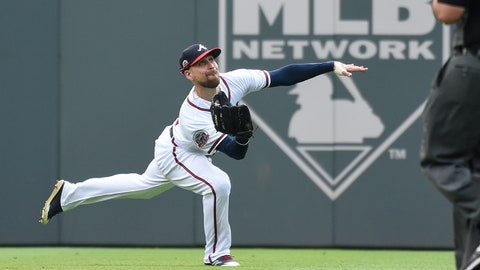 Rawlings Sporting Goods Company, Inc., and ESPN announced tonight that outfielder Alex Gordon and first baseman Eric Hosmer have each been honored with American League Rawlings Gold Glove Awards.
Hosmer was awarded his fourth Gold Glove. This season, the Marlins had three finalists for a Gold Glove Award: Ozuna, Dee Gordon (second base) and Giancarlo Stanton (right field).
Major League Baseball announced the winners of the award - which recognizes a player at each position's defensive abilities throughout the season - on Tuesday night. For the second time in his career, LeMahieu was named the Rawlings Gold Glove Award victor at second base. Gordon's five awards are the second most in franchise history, behind Frank White's eight (1977-82, '86-87).
Perez had won four straight AL Gold Glove Awards from 2013-16 before being beat out this season by the Angels' Martin Maldonado.
Minnesota teammate Brian Dozier was also awarded a Gold Glove for his work at second base for the Twins. His 2.8 Defensive WAR as calculated by Baseball Reference led all National League players and ranked second among all Major League players (SS Andrelton Simmons, 4.2). Hosmer also had a streak of 120 games without being charged with an error, the longest streak by a Royals first baseman, according to Elias Sports Bureau.
Winners are determined using a combination of advanced metrics (25 percent) and coach and manager voting (75 percent).