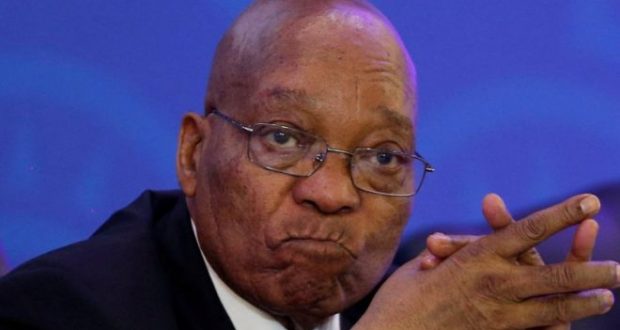 Mr Zuma, who has not said whether he will step down voluntarily before his second term as president ends, has been deserted by several prominent allies in the ANC since Mr Ramaphosa took over leadership of what is the only party to govern South Africa since the end of apartheid.
In a fresh attempt to kick out President Jacob Zuma, 75, the embattled leader is gearing up for another no-confidence vote this month as splits within his own party threatens to undo him.
Zuma met with the ANC's top six leadership at his official residence on Sunday night as the party tries to figure out what to do with the so-called two centeres of power created by Cyril Ramaphosa's election as ANC president and Zuma's stay as head of state.
ANC defenders under the banner of #DefendLuthuliHouse have vowed to form a human chain around the party's headquarters in Johanensburg to stop protesters marching in support of Zuma.
This is reportedly an indication that Zuma refused to resign during Sunday's meeting, which ended at 10pm.
Malema was one of the first to disclose that Ramaphosa had won the race to succeed Zuma as ANC leader in December.
More news: Meghan Markle's recent speech didn't go according to plan
Zuma faces a no-confidence vote on February 22 after a request from the opposition Economic Freedom Fighters but Mashatile said he opposed that method of removing the president.
Mr Zuma, who is battling corruption allegations, has been in a weakened position since he was replaced as leader of the ANC.
The EFF had requested that next Thursday's State of the Nation (Sona) be postponed and that Zuma's future be decided through a parliamentary vote by MPs.
Parliamentary speaker Baleka Mbete made a decision to hold the vote in response to a request from the Economic Freedom Fighters, an opposition party that has often disrupted proceedings in Parliament because of corruption allegations against the president, Mbete's office said.
He says that as far as he is concerned, ANC members no longer trust Zuma.