South Africa on Tuesday postponed its State of the Nation address, the keynote political event of the year, as the ruling ANC party grappled over a battle to unseat President Jacob Zuma.
Polokwane - The ANC Veterans League in Limpopo says the National Executive Committee (NEC) should ask President Jacob Zuma to resign before the State of the Nation Address (Sona).
Party officials were mandated by the ANC national working committee (NWC) last week to meet Zuma and ask him to step down' after a national executive committee (NEC) meeting earlier agreed that the officials should manage his exit.
Zuma now faces the toughest test yet, when he is scheduled Wednesday to face the party's National Executive Committee, which has the authority to recall the president, but can not actually force him to resign.
According to News24, the "arrogant" Zuma reportedly told the ANC's top six during their meeting on Sunday night that the "people still love him".
"It was discussed at a great deal of length".
But Zuma loyalists have said that the serving president should complete his second and final term in office, which would end when elections are held next year.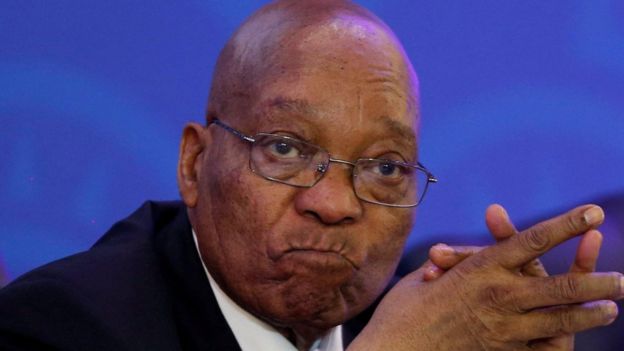 Mr Zuma has been embroiled in a series of corruption scandals but denies any wrongdoing.
The NWC conducts the day-to-day running of the party.
"We made a decision to approach [president Jacob Zuma] to postpone the state of the nation address". He says it doesn't matter how Zuma is removed, as long as he doesn't address the country.
With a general election set for 2019, the ANC will be keen to distance itself from any more negative press - and therefore it is perhaps not surprising that Mr Ramaphosa was elected the party leader on an anti-corruption platform.
And despite the attacks on him, Mr Zuma still enjoys support within the party, particularly among rural members and within his own Zulu community. The direction of the legislative organ decided the non-confidence motion against the head of State will not be analyzed until after that speech by the President and the afterward report on the national budget, in charge of Finance Minister, Malusi Gigaba, scheduled for February 21. They are said to have failed to convince him to stand aside.
However, Zuma refused to step down, telling the party's leadership that he had done nothing wrong.
The ANC, which was the main anti-apartheid movement for decades, has led South Africa since the end of white minority rule and drew moral standing from its association with Nelson Mandela, the country's first black president.
More news: With flu surging in Livingston County, health department to host Tuesday clinic