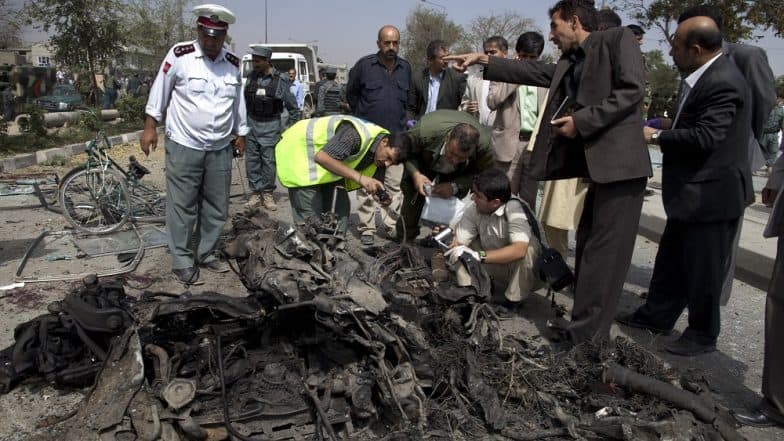 Days later, the group claimed responsibility for an attack outside a hospital in which militants detonated explosives packed inside an ambulance.
The previous month, several people were killed and injured in a suicide attack in the Shashdarak area of Kabul, not far from the Kabul Green Zone where many diplomatic compounds are located.
Another 20 people were wounded in the blast, health ministry spokesman Waheed Majroh told AFP. Women and children were among the casualties, he said.
The bomber was less than 200 metres from Karte Sakhi shrine where many Afghans gather every year to mark Nawrooz, which is the traditional Persian new year holiday.
An ISIS bomber also targeted minority Shiites earlier in March, killing nine while suicide bombing a police checkpoint.
Rahimi said that the bomber had sought to detonate himself by the shrine, but couldn't get closer due to tight security.
More news: New Braunfels man arrested, accused of sexually assaulting young female family member
Interior Ministry spokesman Najib Danesh said the bomber had apparently meant to reach the shrine, which was attacked during a Shi'ite festival in October 2016, but had been prevented from getting closer by police checkpoints. He said an investigation into the security breach is underway, and that anyone found to have neglected his duties would be punished.
The shrine had been attacked before.
In January, Taliban gunmen stormed the Intercontinental hotel in Kabul, killing 22 people.
Blood stains and belongings are pictured on the road at the site of a suicide bombing attack in Kabul. The Taliban has also been resurgent since the withdrawal of US-led North Atlantic Treaty Organisation troops at the end of 2014, having taken back territory in Afghanistan and devastated the country's beleaguered security forces.
Taliban terrorist group simply denies the involvement in the attack.