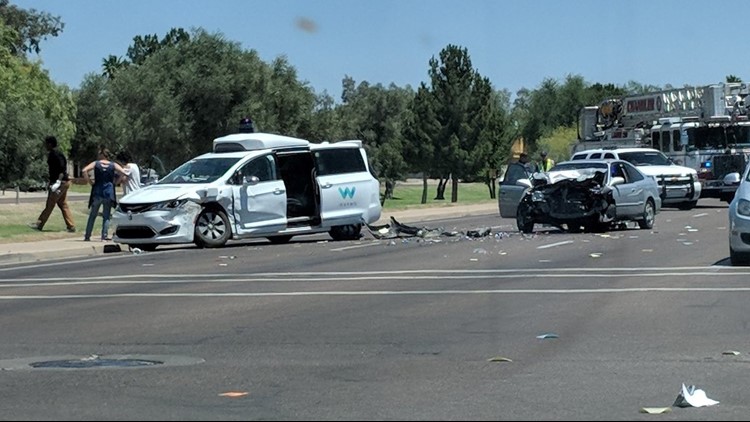 A self-driving Chrysler Pacifica minivan operated by Waymo, the autonomy subsidiary of Alphabet/Google, was involved in a two-car accident Friday afternoon in Chandler, Ariz. In this case a driver was on board and was injured in the accident.
The Waymo vehicle, a Chrysler Pacifica, was struck by a human-piloted Honda sedan that swerved to avoid hitting another auto, according to a police statement reported by the Associated Press. You can see Waymo's footage of the incident below. As the Honda swerved, the vehicle continued eastbound into the westbound lanes of Chandler Blvd. and struck the Waymo vehicle, which was traveling at a slow speed and in autonomous mode. This may be Waymo's first accident in its Arizona test program.
The incident saw a auto veer across the lanes and into oncoming traffic. The Waymo van was reportedly hit by sedan after it swerved into the wrong lane in order to avoid another collision.
It's not clear which human driver was at fault, but forthcoming video from the Waymo vehicle will likely reveal more.
More news: New UK Home Secretary pledges 'fair and humane' immigration system
A pedestrian in the Phoenix suburb of Tempe died in March after she was struck by a self-driving Uber vehicle. Google began testing self-driving cars in 2009.
An investigation is underway and police said they intend on reviewing the vehicle's on-board cameras to help determine who ran the red light.
The driver behind the wheel of the Waymo minivan sustained minor injuries, Tyler said, but he could not confirm whether the other driver had injuries. That vehicle was in autonomous mode, but there was an operator in the driver's seat.