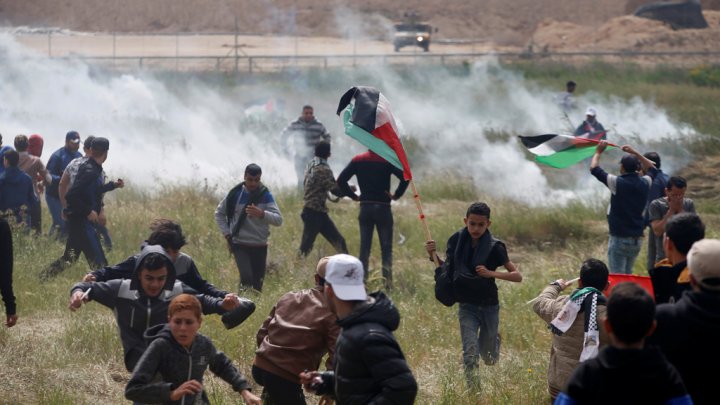 At the same time, Hamas, which has controlled Gaza for more than a decade, must not use the protests as cover to attempt to place bombs at the border fence and create provocations, he said, adding that Hamas operatives must not hide among the demonstrators and risk the lives of civilians.
During these protests, dozens of Palestinians have been killed and thousands others wounded as Israeli forces continue to suppress the demonstrations.
Notably, Kenya was among 21 countries that failed to vote at the UN General Assembly in a resolution aimed at condemning Washington's recognition of Jerusalem as Israel's capital.
The Palestinian health ministry said more than 2,700 people had suffered injuries and that numerous dead had not yet been identified.
A foreign ministry statement carried by the official Wafa news agency said the decision "follows the moving of the American embassy from Tel Aviv to Al-Quds (Jerusalem)".
Protesters burnt tyres, sending huge plumes of black smoke into the sky, threw stones and some of them brandished knives at Israeli soldiers, including snipers perched on earthworks.
More news: Taiwan seeks 'correction' after Air Canada lists Taipei as part of China
She stressed that Russia's position on Jerusalem remains unchanged and that Moscow stands for a two-state solution. "The status of Jerusalem should be determined in a negotiated settlement between Israel and Palestinians, and Jerusalem should ultimately be the shared capital of the Israeli and Palestinian states", she pointed out.
"The blood of innocent Palestinians is on the hands of the United States", he said.
Palestinian officials accused Israel of committing a "horrific massacre" and called on the worldwide community to immediately intervene.
The death toll makes Monday the bloodiest day in Gaza since the conflict of 2014, he said.
South African ambassador Sisa Ngombane was recalled after International Relations and Cooperation Minister Lindiwe Sisulu made contact with US Secretary of State Mike Pompeo about possibly delaying America's move.
UN Special Coordinator for the Middle East Peace Process Nickolay Mladenov on Tuesday condemned the latest round of violence in Gaza.