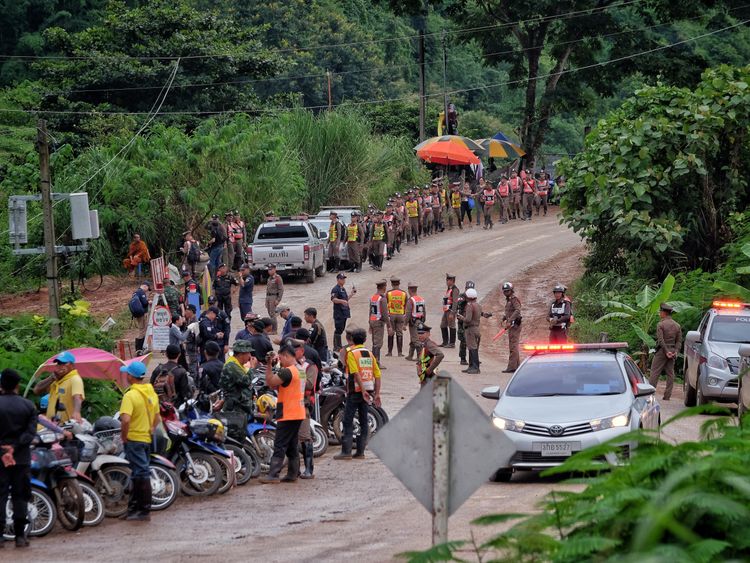 Three boys have been rescued on the third and final mission to save the remaining members of a Thai soccer team and their coach, who have been trapped in a cave for more than two weeks.
He said he hoped the rescue mission, which would begin with 19 divers and include more throughout the day, would proceed even faster than Monday's nine-hour operation. Four boys and their coach remain in the cave, but it's unclear if authorities will try to extract them in a group of four or try to take the five out in a single mission.
It's unclear whether Thai officials will opt to use Musk's submarine to rescue the four remaining boys and their soccer coach.
Tragedy strikes: a diver helping to establish an air line to the boys dies after passing out while returning from the chamber, raising serious doubts over the safety of attempting a rescue.
Writing in elegant Thai script, the boys urged their parents not to worry, adding that they hoped they wouldn't get too much homework after being rescued and couldn't wait to eat their favorite foods again.
The three Navy seals and a doctor who accompanied the boys in the cave complex are still inside.
Cave rescue experts have said they consider an underwater escape to be a last resort, especially with people untrained in diving.
It could be at least seven days before they can be released from hospital, Jedsada told a news conference.
More news: Argentine pope consoles Brazil after soccer World Cup exit
Dr. Andrew Adesman, chief of developmental pediatrics at Cohen Children's Medical Center in New Hyde Park, New York, said there is a threat of post-traumatic stress disorder (PTSD) for the boys and their coach, but he said he is hopeful it won't be an issue for a majority of the kids. Authorities have said the mission could take up to four days to complete and heavy rain is forecast in the coming days.
The first eight boys rescued are in good mental and physical health and are asking for chocolate, officials said Tuesday, although two were on antibiotics after being tested for pneumonia.
Two boys among the first group to be freed, who he said were aged between 14 and 16, had shown possible signs of pneumonia and all had low temperatures when they arrived on Monday night. After they were found on July 2, officials cautioned it could take some time to get them out, but authorities made a decision to act with heavy rains forecast to hit the region.
Two boys have minor lung infections and one had a fever, doctors have said. Chiang Rai province's acting governor, Narongsak Osatanakorn, who is in charge of the rescue, voiced confidence on Monday in the ongoing operation, provided the weather doesn't worsen.
Thai Navy SEALS divers have already rescued eight of the boys.
The members of the "Wild Boars" team, aged between 12 and 16, were guided to safety through the twisting, submerged passages of the Tham Luang cave by a team of global expert divers flanked by Thai Navy SEALs over two days in a meticulously planned operation.
"We thank the God of the rain".