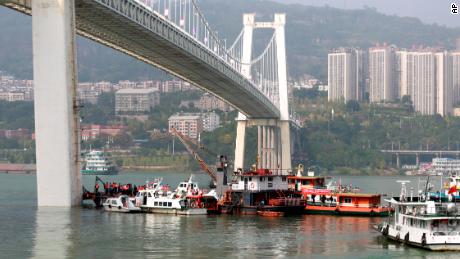 A heated quarrel between a bus driver and a passenger was to blame for the tragic crash which killed more than a dozen in southwest China's Chongqing Municipality on October 28, local police said at a news briefing on Friday.
The wreckage of the bus was pulled out of the river from a depth of 71m on Wednesday night.
The video, recovered from the bus's black box, shows a female passenger arguing with the bus driver and smacking him in the head with her cell phone as they cross over a bridge in the city of Chongqing.
Dashboard camera footage from another vehicle nearby, released earlier, had shown the bus charge onto the wrong side of the road without warning before hitting the railings of the Wanzhou Yangtze No. 2 Bridge and plunging into the river. Two passengers remain missing, state-run Xinhua news agency reported on Friday.
The bus then lost control and veered onto the wrong side of the road and collided into an oncoming vehicle before breaking through fencing and flying off a bridge over the river.
More news: Derby County - League Cup - 31 October 2018
The first half is surveillance footage from the bus. When he refused, she walked up to the front of the bus to confront him. A previous investigation found that 15 people including the driver were on board the bus at the time.
During the ensuing fight, the driver lost control and the bus went into the river.
As the quarrel escalated, the statement said, the woman hit the driver on the head with her cellphone.
"The behaviour of both the passenger and driver has severely endangered the safety of all other passengers and has violated the law, ' police said, adding the tragedy served as an 'extremely painful lesson".